What We Do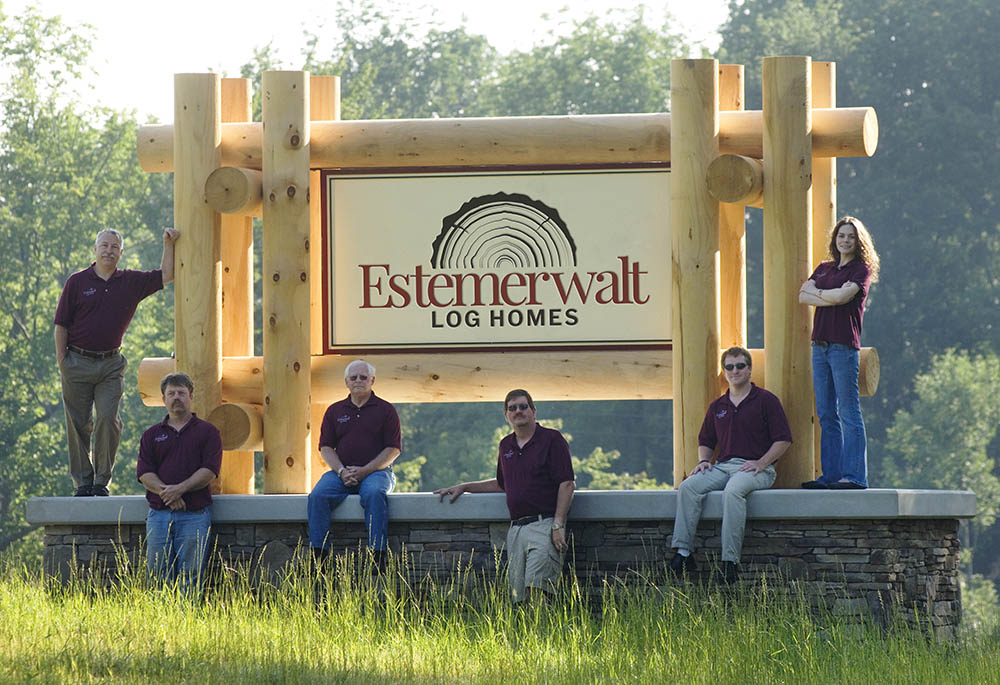 ABOUT US
The Estemerwalt Experience // For 136 years and through five generations, the Propst family has been manufacturing the finest in wood products and setting the standard for excellence in log homes. We are a family run log home company; we pride ourselves on having unequaled personal service, friendly staff, and precision craftsmanship.
We can't wait for the opportunity to discuss your plans and ideas for your new home. Our sales representatives and in-house design team will work with you closely to produce a home that reflects your lifestyle and is the realizations of your dreams.
Estemer-who? // We are often asked where the name Estemerwalt came from. In the mid-1920's the patriarch Peter Propst purchased the land and lake upon which our production facility and log home office are located. This land was purchased solely for recreation and it wasn't until many years later that the mill moved from Archbald, Pa. to its Honesdale location. In 1929, the dam was in need of repair. When the dam was rebuilt, Peter decided to rename the lake after his three children, Esther, Emery, and Walter, and Lake Estemerwalt was born. When we started to manufacture log homes in the 1980s we changed the name from Propst Lumber to Estemerwalt Log Homes to emphasize our new direction.
Our People // Estemerwalt Log Homes and her employees are proud to be good and active citizens within our town of Honesdale, Pennsylvania. This community pride extends to every facet of our business, from manufacturing up through sales. We have never had anything but complete satisfaction from our past customers, a claim not many log home companies can make. We take a great deal of pride in our positive reputation, and we work to protect it with each of our clients. No matter what the scope or size of your project, we are there for you every step of the way.
Our Partners // We are a member of the National Federation of Independent Business (NFIB), the Log and Timber Homes Council, the National Association of Home Builders, the Pennsylvania Builder's Assocation, Wayne Pike Builders, and the Chamber of Commerce of the Northern Poconos. We are an authorized dealer of Jeld-wen, Andersen Windows, Pella Windows, and Q8 log oil. We provide a 10-year warranty on our logs through Residential Warranty Corporation.
---
WHY ESTEMERWALT?
What sets us apart from other log home companies? In addition to our knowledgeable personnel, friendly service and vast product line, we have a full service sawmill. Every log, every piece of siding, every timber, every piece of tongue and groove, and nearly every wood surface you will see in your new home was sawn, dried and manufactured right here. This translates into a log home package that is among the most complete in the industry and a greater value for our customers than can be found from any other log home company.
Log Home Package // Estemerwalt Log Homes offers one of the most comprehensive log home packages in the industry. Our home packages consist of everything needed to create... READ MORE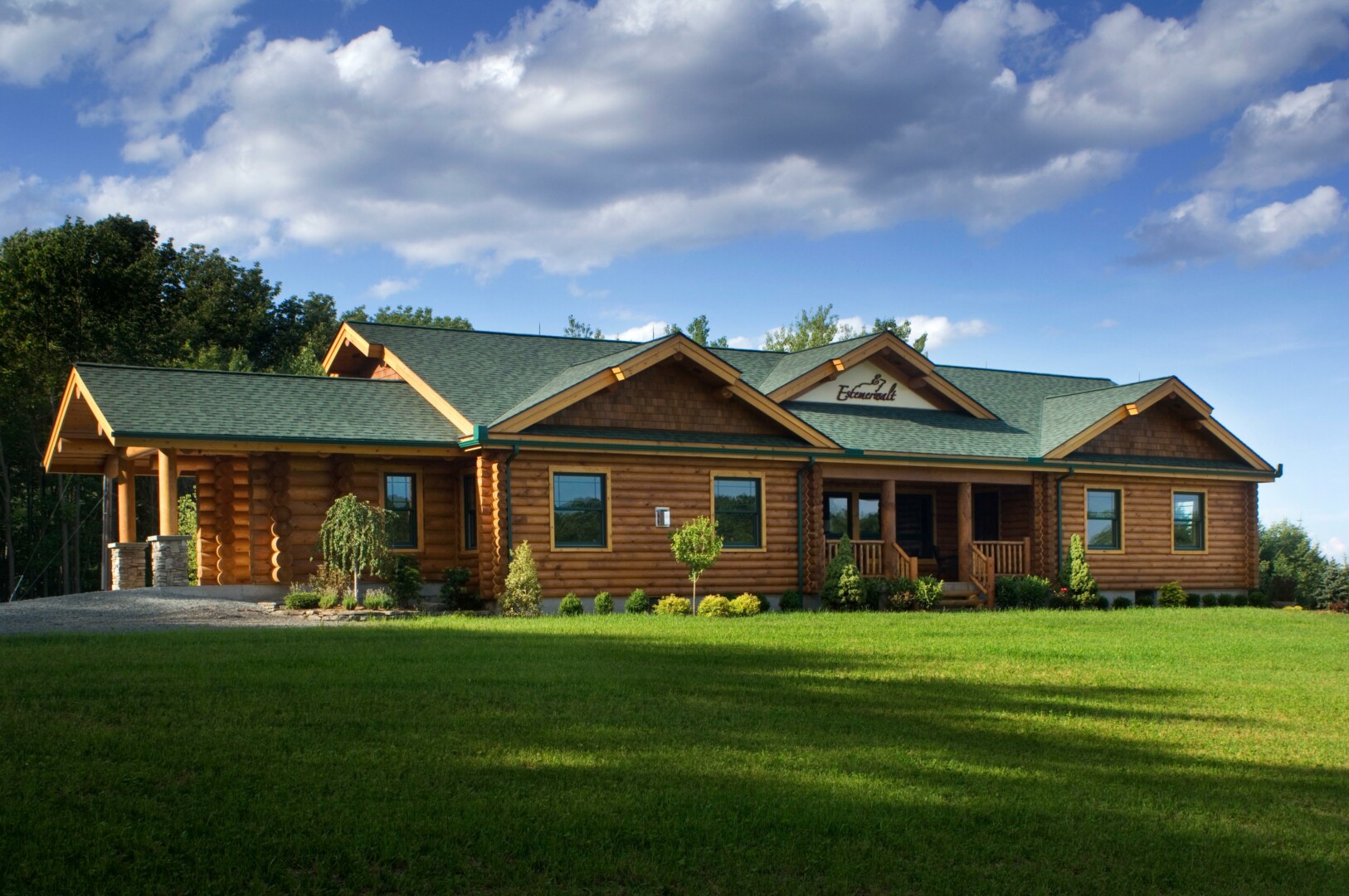 ---
COME VISIT US
For those who would like to make a stay of their trip to Estemerwalt Log homes, we suggest the businesses listed here.
Please Note: Google Maps does not accurately reflect our location at 505 Adams Pond Road, Honesdale, Pennsylvania 18431
For those with a GPS, you can enter these coordinates: 41˚ 34' 35.17" N, 75˚ 09' 02.64" W, Elevation 1294"
---
WHAT OUR CUSTOMERS SAY
To share your own experience with Estemerwalt Log Homes, you can email us at homes@estemerwalt.com or send a letter to:
505 Adams Pond Road
Honesdale, Pennsylvania 18431
We love our log home. The quality of materials and service was great. Everyone at Estemerwalt was helpful. There are many decisions to be made when building a new home: hardwood or tile? wall sconce or ceiling fan? sofa or love seat? Estemerwalt or ?? We chose Estemerwalt Log Homes – it's the easy choice.
I want to take a moment to thank you for making my dream of owning a log home come true. You are truly a company dedicated 100% to making your customers dreams transform into reality! As a young child, I was always fascinated with log homes. Now grown with a family, I thought no better time than the present to embark on that journey of owning my very own.
My experience with Estemerwalt Log Homes has been first class from design phase through lot construction. They assisted me in every way through all phases of construction.
We have recently purchased a log home package from Estemerwalt Log Homes in Honesdale, PA. The experience of dealing with Estemerwalt far exceeded our expectations. From our ideas to the final plans, the process was done with complete ease. Their design team refined our plans and, as a result, we have our total dream home. The total building package was everything they said and more. The quality of the building materials was outstanding. The employees of Estemerwalt steered us to all excellent local contractors and suppliers. They went above and beyond answering all our constant questions with patience. All phone calls were answered promptly.If we ever purchased another log home, we would use all the same contractors and we know we would have total satisfaction with our choices. Continued success to Estemerwalt in the coming years.
Owning a log home has been our life-long dream. For the past three years the staff at Estemerwalt Log Homes has taken our architectural ideas and made them a reality. When it came to the actual construction process, all materials arrived on schedule and were in excellent condition. Our building project went up without a hitch. Words can't describe how we feel about our new log home. You would have to pay us a visit to share our enthusiasm.
We cannot thank the staff at Estemerwalt enough for their professionalism and courtesy throughout our log home building experience. The personal attention which we received was a comfort. The quality of their products is evident to anyone who visits our home. Estemerwalt Log Homes helped make our dreams come true.
Previous
Next
CONTACT US
---
TALK TO A LOG HOME EXPERT
Meet with a dedicated client representative to discuss your project goals. We can answer questions about planning, designing, and building your log home.