WE WANT TO MEET YOU
Join us at our next Estemerwalt Event or schedule a tour today. Mark your calendar now for this month's events.
---
SEE ALL
THE ESTEMERWALT COMMITMENT TO HONESTY & INTEGRITY
For five generations and 136 years, this family owned business has been helping log and timber home buyers realize their dream of building a one-of-a-kind forever home. What have we learned? Each project is as unique as our clients and their dreams. What hasn't changed over the years is our commitment that we've got your back during this process to realize your dream. Honesty, integrity, expert craftsmanship and award winning design all come standard when you choose Estemerwalt Log Homes. Please contact us to discover why each client of ours becomes our dear friends and are treated as such. – Kurt Propst, President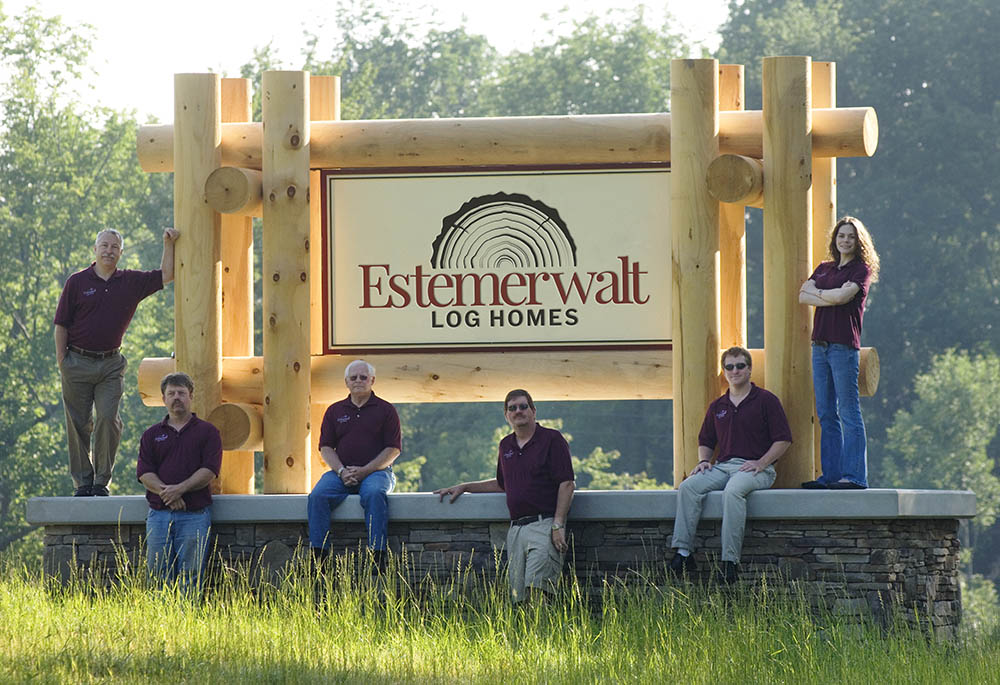 Amy and I always dreamed of having a log home. We looked at many different styles and makes of log homes. We looked at design and compared quality and cost. We feel at Estemerwalt Log Homes we got a great log home at a reasonable price. The people at Estemerwalt Log Homes were very helpful from start to finish. From early design until the final days of construction, the good people at Estemerwalt Log Homes were always available, easy to get on the phone and eager to help and offer advice or guidance. Amy and I are extremely happy with our new log home. If we had a chance to do it all over, Estemerwalt Log Homes would be our choice! Completely happy and proud of our home.
We cannot thank the staff at Estemerwalt enough for their professionalism and courtesy throughout our log home building experience. The personal attention which we received was a comfort. The quality of their products is evident to anyone who visits our home. Estemerwalt Log Homes helped make our dreams come true.
We love our log home. The quality of materials and service was great. Everyone at Estemerwalt was helpful. There are many decisions to be made when building a new home: hardwood or tile? wall sconce or ceiling fan? sofa or love seat? Estemerwalt or ?? We chose Estemerwalt Log Homes – it's the easy choice.
I want to take a moment to thank you for making my dream of owning a log home come true. You are truly a company dedicated 100% to making your customers dreams transform into reality! As a young child, I was always fascinated with log homes. Now grown with a family, I thought no better time than the present to embark on that journey of owning my very own.
Owning a log home has been our life-long dream. For the past three years the staff at Estemerwalt Log Homes has taken our architectural ideas and made them a reality. When it came to the actual construction process, all materials arrived on schedule and were in excellent condition. Our building project went up without a hitch. Words can't describe how we feel about our new log home. You would have to pay us a visit to share our enthusiasm.
We have recently purchased a log home package from Estemerwalt Log Homes in Honesdale, PA. The experience of dealing with Estemerwalt far exceeded our expectations. From our ideas to the final plans, the process was done with complete ease. Their design team refined our plans and, as a result, we have our total dream home. The total building package was everything they said and more. The quality of the building materials was outstanding. The employees of Estemerwalt steered us to all excellent local contractors and suppliers. They went above and beyond answering all our constant questions with patience. All phone calls were answered promptly.If we ever purchased another log home, we would use all the same contractors and we know we would have total satisfaction with our choices. Continued success to Estemerwalt in the coming years.
Previous
Next
CONTACT US
---
TALK TO A LOG HOME EXPERT
Meet with a dedicated client representative to discuss your project goals. We can answer questions about planning, designing, and building your log home.