Purchase Land
How to find a suitable plot of land to build your log home on and what considerations to take into account while doing so.

STEP 3: PURCHASING LAND FOR YOUR LOG HOME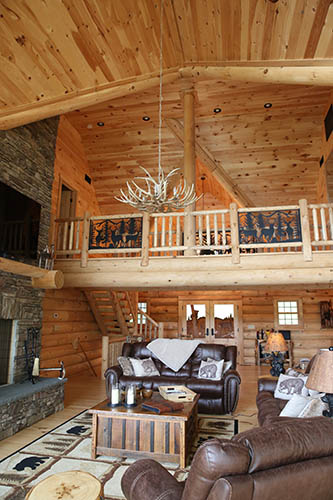 Once you have a log home design in mind, you can start the land selection and site preparation. Before making a final decision on selecting land, have your surveyor indicate the best location for the home.
Some items to consider when selecting land for your log home:
Since the size of the home is the single most important cost factor, it should be one of the first things you decide upon. Do you want multiple levels or single floor living? What is large for one person may be small to someone else, so be specific with what you want. If you are trying to keep overall size to a minimum, it is suggested that you keep non-living areas as small as possible. These areas include bedrooms, baths, and garages. As you design your home, consider flow – if you entertain a lot, you may want a large kitchen and dining area open to a great room (this is a very popular design feature for a log home).
You will find your sales consultant very helpful in assisting you with the design process and will help determine a rough ball-park figure of the finished project (note that final costs will be determined when plans are drawn up).
Some design elements to consider:
Location of House – The site plan should indicate any natural features you want to protect and any sediment control measures you plan.
Well
Septic System
Driveway
Utility lines
Material Storage Areas – particularly where logs will be stored / material storage trailer
Portable Restroom Facilities for Workers
Topsoil and Excavation Soil Mounds
Stump Removal – rotting stumps are havens for insects and invitations to insect problems in your log home.
Rock – Surface rock can often be cleared using heavy equipment. Larger obstructions may need dynamite.
Drainage – make sure you know where you want runoff to go during construction and when the final construction is completed of your log home. In most areas, building permits will require silt fences to protect water runoff and adjoining properties.
Clearing the Land – Mark which trees you want to keep and remove so you can determine if your log home can be situated in that specific location.
See what types of designs are available by browsing our log home plans.
Ready to get started? Request more information from Estemerwalt and a representative will help you.
CONTACT US
---
TALK TO A LOG HOME EXPERT
Meet with a dedicated client representative to discuss your project goals. We can answer questions about planning, designing, and building your log home.