How to design your log home and evaluate what your particular needs are. How to decide on the number and types of rooms and the size and attributes of the logs.
STEP 2: DESIGNING YOUR LOG HOME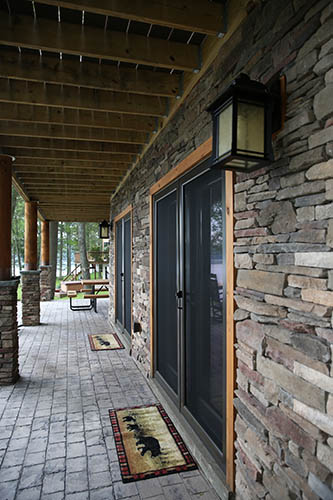 When you are designing your log home, make sure you evaluate what your needs are. In most cases, you can work with your log home company on standard models or custom plans designed specifically for you and your living needs. Ask to look at past plans to get ideas. Take notes about features you like in homes you've been in, lived in previously, seen in magazines or on TV – all of these will help you in ultimately deciding on your design.
Since the size of the home is the single most important cost factor, it should be one of the first things you decide upon. Do you want multiple levels or single floor living? What is large for one person may be small to someone else, so be specific with what you want. If you are trying to keep overall size to a minimum, it is suggested that you keep non-living areas as small as possible. These areas include bedrooms, baths, and garages. As you design your home, consider flow – if you entertain a lot, you may want a large kitchen and dining area open to a great room (this is a very popular design feature for a log home).
You will find your sales consultant very helpful in assisting you with the design process and will help determine a rough ball-park figure of the finished project (note that final costs will be determined when plans are drawn up).
Some design elements to consider :
Kitchen Size and Functionality
Number of Bedrooms and Bathrooms
Great Room Size
Fireplace Location(s)
Closet and Storage Space
Open Floorplan Concept
Size of Logs
Electronic Features / Media Room
Decks / Porches
Overhangs
Window Locations
See what types of designs are available by browsing our log home plans.
Ready to get started? Request more information from Estemerwalt and a representative will help you.